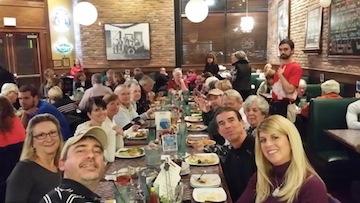 Become a Volunteer!
We need volunteers to help in many ways. These include dog walking and training, help at our public adoption events, helping to manage feral cat communities through our dedicated TNR program, fundraising efforts, publicity through web design and speaking engagements, and much more. Volunteers must be 18 yrs or older unless accompained by a parent or guardian.
So, don't wait. Start helping us today! Just call 512-863-6006, or fill out a membership application and email it to info@georgetownanimaloutreach.org.
Become a Member!
GAO offers two levels of membership.
A Voting Member is one who has paid a small annual membership fee ($10 Student Member, $25 Regular Member,  $15 Senior Member, or $250 Lifetime Member). A voting member can vote on business matters brought before the membership for approval, can be nominated for a seat on the Board of Directors, and as a Board member can hold office. The member must be at least 18-years old.  If a member wishes to serve on the Board of Directors, that member must be a dues paying member for thirty days prior to applying for a seat.
A Non-voting Member may be an individual, company or group that meets the qualifications for membership, but by their choice will be admitted as a non-voting member. These members may not hold an elected baord position in GAO. There is no age restriction for non-voting members, except that those under the age of eighteen must have parental or guardian consent to join, and must be in the company of an adult when participating in GAO activities. Most GAO members fall into this category.
If you want to join GAO just complete a GAO Membership Application and mail it to PO Box 1684, Georgetown, TX, 78627. And THANK YOU for your interest in GAO!
Monthly GAO Meetings
Georgetown Animal Outreach holds monthly meetings on the FIRST TUESDAY of every month.  These meetings are open to the public and are held in the second floor classrooms at the Georgetown Public Library, 401 South 8th Street, Georgetown, Texas.  Meetings begin at 6:00 PM and generally last for one hour.  At these meetings, GAO board members discuss regular agenda items such as the status of dogs and cats in our foster network, successful adoptions of the past month, a summary of our financial status from the Treasurer, future fundraising and adoption events, and special topics pertaining to animals in need in the Georgetown community.