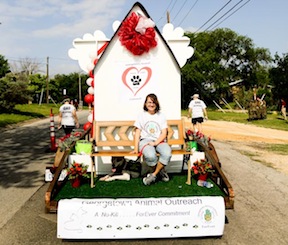 Adopting the motto "Rescue-Foster-Adopt-Forever" GAO remains completely devoted to a "lifetime" commitment for at risk, mixed-breed dogs and cats in Williamson County. Among our accomplishments, GAO has: funded a low-cost spay & neuter program for owned dogs and cats since 2000; operated an emergency shelter for pets abandoned during hurricanes Katrina and Rita; provided financial aid for lower-income pet owners seeking assistance for medical treatment where a pet's survival may be at risk; raised funds for the purchase of resuscitative oxygen masks designed for pets caught in fire and emergency rescue situations, and then gifted those to each of the thirty-two fire stations in the County; and we have placed over 600 dogs and cats in forever homes in the last four years (2011-2015).
In 2003, GAO secured a Petsmart Charities award toward the purchase of a climate-controlled, off-site adoption trailer for the Georgetown Animal Shelter, and the trailer is still in use today. We also received two grants to fund spay/neuter programs – one from the Bob Barker Foundation grant and an additional one from Petsmart. Our members work jointly with local city and county administrations to review and strengthen existing animal welfare ordinances, especially those dealing with the banning of roadside pet sales, tethering of dogs, restricting retail pet sales, and developing more cohesive animal control policies across the entire region.
Georgetown Animal Outreach holds regular dog adoption events each and every Saturday in the Georgetown/Round Rock/Leander area. During these events we invite folks of all ages to come and meet our wonderful pups in a casual and relaxed setting. All of our dogs are fully vaccinated, spayed or neutered, and microchipped. Kisses are optional but highly recommended.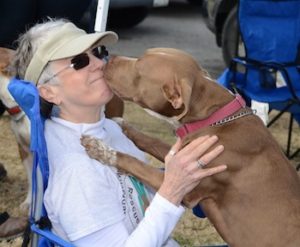 Programs
GAO maintains several community action-based programs with the primary goals of assisting local public intake shelters, rendering aid to lower income pet owners, and improving the welfare of animals in Williamson County. GAO advocates that domestic animals are an integral part of our families and community. And in turn, we believe that it is a community obligation to ensure their welfare through proactive intervention, public education and medical care.
Among the current GAO programs are: Spay/Neuter (SN), Rescue-Foster-Adopt (RFA), Emergency Veterinary Assistance (EVA), Trap-Neuter-Release (TNR), Heroes For Heroes (HFH), Animal Welfare Advocacy (AWA), Senior Companions (SC), and Natural Disaster Emergency Rescue (NDER). Collectively, these programs help control local animal populations, alleviating the overflow of local animal shelter intakes and directly impacting the burden on taxpayers of continuous euthanasia and shelter expansion. Lower income families do not have to surrender their pets due to unaffordable emergency medical care and have fewer pets to care for through subsidized Spay/Neuter. The community at large benefits through increased public awareness, local government advocacy and disaster relief. And disabled veterans have an opportunity to find assistance with appropriately matched companion-service animals.
We often hear inspirational stories about pets that we have helped from our fosters and new adoptive families. These are the stories that motivate us to continue our efforts to help individual animals and to improve animal welfare across all aspects of our mission.
If you have a story to tell, perhaps a personal experience with your pet, mail or e-mail your story to GAO, P.O. Box 1684, Georgetown, Texas, 78627 and you may see it here.