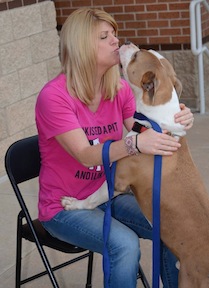 GAO is active in Georgetown and the surrounding community in several ways.  Throughout the year, GAO volunteers can be found on Saturdays at such public places as The Monument Cafe in Georgetown, Doghouse Drinkery in Leander, and local area Petco and PetSmart stores. Here volunteers showcase animals available for adoption, so please check our EVENTS page on Facebook for exact times and locations.
Several GAO volunteers also perform duties at the Williamson County Regional Animal Shelter, helping with administrative, daily cleaning, dog walks and special event tasks.  Refer to the RESOURCES links to learn more about these opportunities.
Through its fundraising efforts, GAO makes monetary donations to provide low cost spay & neuter, special medical assistance, supplies, and materials that contribute to the care of the animals.   Fundraising is accomplished through the generosity of the general public who wish to help in improving the lives and plight of sheltered animals.  Funds are also raised through grants sought by GAO from philanthropic foundations and organizations which support low-cost spay & neuter programs and other activities that aid unwanted and sheltered animals.