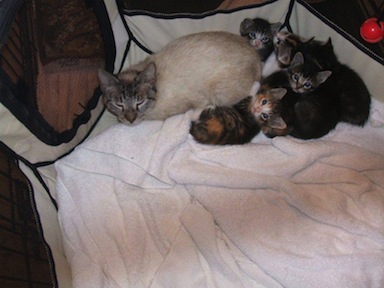 GAO oversees the welfare of around thirteen colonies of displaced (or "free-roaming") cats in the Georgetown area. Although some of these community cats were born into individual colonies, many of them are former family pets who have been displaced by unfortunate circumstances. Our TNR group provides these cats with food and water every day. This helps to better socialize them and makes them more trusting of people. Unaltered cats (especially kittens), and those with pressing medical needs, are trapped and proper care is provided to them by GAO.
Cats and kittens who are deemed adoptable find forever homes or can be placed into one of our sister barn-cat programs. Healthy cats who cannot be socialized with humans are returned to their colonies where they live out their lives in peace and harmony with the community. TNR programs like ours help establish healthier and calmer cat colonies, whose overall populations will steadily decline over time. Most importantly, these cats are fully innoculated and therefore pose no threat to the community or to family pets.
MAKE A DIFFERENCE AND JOIN OUR TNR GROUP TODAY
For more information, please call GAO at 512-863-6006 or email us at info@georgetownanimaloutreach.org.