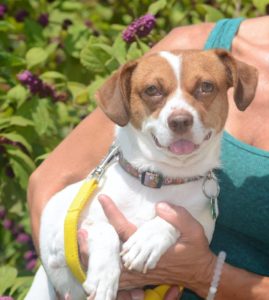 Little Sofie Galaxy's life wasn't always a bowl of cherries. She was picked up as a stray, pregnant and with a cherry eye, and taken to the Bastrop shelter where they found that she also had heartworms. So GAO brought Sofie straight into a foster home, where she could have her pups in a calm, quiet setting.
And then she had nine(!) gorgeous puppies – The Guardians of the Galaxy litter! Sofie was a wonderful mom, and once her pups found their forever homes, Sofie herself found another great foster who would help her finally relax and get well. She went on summer vacation with her fosters to Colorado and New Mexico, spent hours relaxing at Starbucks, Tomlinson's and Tail Waggins Bakery, and even got a few trips to
the Bark Park. Sofie was spayed, had her cherry eye repaired and completed heartworm treatment in record time. And then this beautiful, courageous girl found her own forever home just after Thanksgiving. You go, Guardian!