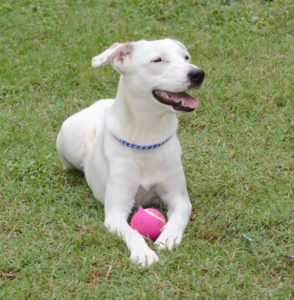 Kaia, a delightful 6 month old puppy, was surrendered to the Williamson County Regional Animal Shelter due to landlord issues. When she underwent spay surgery there, it was discovered that she had a heart defect called Patent Ductus Arteriosis. She had a hole in her heart, causing it to become extremely enlarged ("great dane sized," said the doctors). When we got Kaia, she was already experiencing congestive heart failure.  Without treatment she was not expected to make it to her second birthday.
GAO pulled Kaia from the shelter and put her in a loving foster home. Then we took her to Texas A & M University, where she underwent two life saving procedures to fix her heart. She now has a lifetime of years to enjoy.
Kaia was adopted by one of GAO's own board members! She lives in grand style now, with three doggy friends and a veritable army of cats, all of whom she adores. She is going to be trained to be a therapy dog. Getting surrendered to the shelter was a stroke of pure luck for our sweet girl. Without WCRAS and GAO advocating for her, she would not have gotten the life saving medical care she needed to survive.