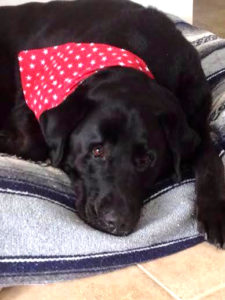 When Milo was confiscated from his original owner's home, he was dreadfully overweight with nails so long that they curled into his paws. A fatty tumor on his rear leg weighed him down. If that weren't enough to make a dog sad, being stuck at the shelter really took the starch out of this poor boy. GAO took him in and put him in a loving foster home, where he got medicine for his achy joints, a diet to help him lose some weight, and lots of love.
Even though Milo was older, he still had a lot of good living to do. But first we had to get him feeling better and turn that frown upside down. He adored our little mini-lab Artemis, and he got lots of love from the humans in the house too. At first he would not even walk in a circle around the backyard. He just didn't have enough get-up-and-go. But soon we had him smiling again, and we started lengthening his walks. One day he even made it all the way around the block. Now, partway through we had to drive the SUV over to him. He got really excited thinking we were going for a drive, and he followed the SUV the rest of the way home!
Milo lost weight, which made it possible for the tumor to be removed. It weighed 5 pounds! That must have felt good to have that weight off. Milo was adopted too and is now living the good life!