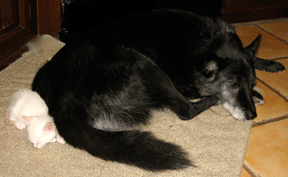 I had never had a dog of my own before, as I have always been and forever will be, a "cat lover." But when I moved into a house with over 2 acres of yard in Georgetown, TX, I knew it was time to take the plunge and welcome a dog into our family of 4 cats.
Every week I would look in the newspaper at the pictures of pets available at the local animal shelter and one day when I opened it, there she was looking back at me! I had envisioned a tan or blonde dog, probably small, so that I could cart her around with me, but this dog who had spoken to me through those loving and yearning eyes was large and black. She was also about 7 years old and had been found living in a field. Some kind person took her to the Georgetown Animal Shelter, where she stayed for 5 long weeks.
When I asked a volunteer why they had held on to her for so long, she said, "Because she's such a wonderful dog." And indeed she is. My daughter, who had been an adoption counselor at her local shelter, warned me that a cattle dog would need to be walked a lot and would have a lot of energy, which could add up to trouble in a household full of cats. But when the shelter described her as a "couch potato" they were right. She is also every inch a lady with impeccable manners and endless patience when it comes to my 'kitties.'
When I fostered a tiny white kitten last year, Melly let the little one sleep on her tail ! In fact, all of my cats walk under Melly's tummy and arch their backs up for a little rub as they go. So now this confirmed "cat lover" is a "dog lover" too. Melly is the love of my life and I can't imagine being without her. Since she is older now, I know that we may not have too many more years with her and I know for certain that on the day she goes to heaven, a big chunk of my heart will go with her.
~Maggie Smallwood